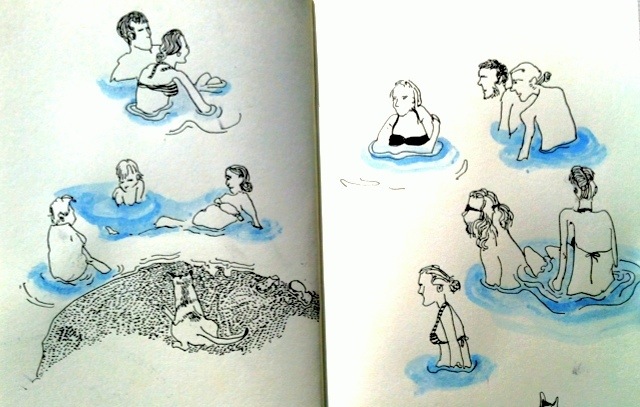 It was time for the next adventure, and at 12:30 a red bus with balded tires screeched around the corner toward our hostel. A big bearded Maori of the mountains yelled down at us. "YOU RAFTING?"
"Yeah, sledging."
"WHERE YOU FROM?"
"America!"
"ALRIGHT AMERICA, TAKE A SEAT!"
There were eight others on the bus, most of them German. Wind was blowing around everywhere. The driver turned around while driving.
"HOW MANY YOU RAFTING?" [three] "HOW MANY SLEDGING?" [five] "SHIT!" he laughed, "LOOKS LIKE EVERYONE'S SLEDGING!"
A waiver was passed around. "YOU CAN THANK THE AMERICANS FOR THAT. THEY GOTTA SIGN SOMETHING IF THEY CROSS THE STREET TO DO THE LAUNDRY. I HAVE TO TELL YOU THOUGH, YOU ARE DOING SOMETHING THAT'S POTENTIALLY LIFE THREATENING. MOTHER NATURE, SHE'S A GOOD OL' MOTHER, BUT LIKE ALL GOOD MOTHERS, SHE LIKES TO SPANK HER KIDS ONCE IN A WHILE. EVERYONE UNDERSTAND?" Everyone did. "WE'LL BE THERE IN JUST A MINUTE NOW. THEN YOU'LL GET YOUR FUZZY RUBBERS."
The steep gravel drive leveled off sharply to a ramshackle building. Reggae music was blaring, and it was hot. The gear was handed out by one of our river-guides, whose smile showed a half-rainbow of knocked out teeth. "Don't pee in your suits," he laughed. "Really, don't do that."
When the group had been loaded into a cramped 12-seater, he was nowhere to be found. Other vans were peeling out of the parking lot, guides were jumping into them on the fly. The driver, who looked and behaved like a Kiwi Johnny Knoxville, finally found our guide talking to a delivery man.
"Hey, get in, we're late." [no response] "Hey, get in." [no response] "Hey man!" [no response] Our driver turned to the group. "Does anyone have a gun?" [no response] "We can do that 'you-shoot-me-I-shoot-you thing'. Or the other way around." Our guide meandered toward the van, not a care in the world – then stopped. "Forgot my vest. Be right back." The driver groaned… then chased the guide with the van before slamming the breaks and skidding. When the guide returned, the driver gunned the van at him, stopping just in time so that the sliding door nearly chopped his fingers off. "LET'S GO!" He gunned the van toward the sharply-angled lip of the driveway, and at the very last second, accelerated. We kind of caught air. At the two-lane highway he whipped it onto the shoulder, which angled up at about 10 degrees, and then accelerated down the beveled shoulder as he prepared to cross two lanes, one of them oncoming. As he whipped across, there was a moment when all thought it would tip. The guides laughed, and the one facing backwards explained the three rules of sledging:
Hold on to your sledge
Put your head down in the rapids
Don't put your flippers on the ground
His speech was interrupted by a hailstorm from below. The road had turned to pea-gravel, and it was too loud to talk. Every pebble that touched a wheel was being rocketed into the wheel-wells and undercarriage. You could feel the vehicle being ruined. Our guide laughed. "Not our van, we don't care." The driver sped up and tailgated the car in front of us..
When it ended they parked, off-loaded, and the second of our guides, an athletic Maori guy with a shaved head, gave us further instructions.
No one heard them. We were lying on a lawn just before the trail to the river, but behind it was the road we'd come in on. Semi-trucks roared by, and, as the only native English speaker in the group of eight, not much was intelligible. We were supposed to have learned how to roll-turn and what to do if we were swept over by the water. We sort of learned it by watching him handle his sledge.
Sledges are like twice-thick boogie-boards made of plastic and filled with air, and with two handles. They weigh about 30 pounds, and they're bulky. The hike to the river was hard.
At the river's entrance our Maori river-guide reviewed what we had "learned", went into the history of the area for a few minutes, and then informed us about the meaning of the Maori prayer he was about to say, which was meant as an appeal for mercy to the river. It was easy to think, 'Here goes some tourist stuff,' but it wasn't. Or if it was, they fooled us. When he started, the other guide bowed his head and mouthed the prayer, word-for-word. Our third guide, a Kiwi who had joined us at some point, stopped his preparations, crossed his hands, and stared at the river. Our entry point was at the base of a 20-foot waterfall, a waterfall that rafts drop down daily, full of tourists. When they hit from that height, the entire raft and the passengers disappear under the churn. Antje did it four years ago. Up to eight years ago they used to let sledgers do it, too, but, lo and behold, someone died. According to the owner of our hostel, "It was bound to happen."
One-by-one, we ventured in. The water was just cool enough, and after the first bend, our worries dissipated. Next was a the first rapid.
"Keep your heads down the whole time, got it? And stay to the left when you get through."
Everyone got through, but not on their own volition. It just ended up that way. And the three guides helped. Even with fins, though, humans vs. water is a joke.
On the third set we were instructed to put our weight forward and plunge through one of the rapids, the idea being that we would pop up about 15-30 feet downstream. No one really liked that idea, and instead everyone got tossed over the top of it. One of the guys lost his bootie and flipper, and a guide came up with it. "Here you are, mate. Looks like you got the wrong sized foot."
In giving it back, though, he'd forgotten his own sledge, and when he turned it was headed down a rapid. He dove after, managed to retrieve it, and for the next five minutes the group relaxed in an eddie, watching him rock climb back upstream in flippers while carrying a sledge. A German girl decided to tell a joke:
"What does a snail say when it's riding a turtle?"
"What?"
"Wahoooo!" [because it's so fast]
The guide with the knocked out teeth had his own to tell:
Q: How many Germans does it take to screw in a lightbulb?
A: Vat do you sink, only one! Vy vould zey need more zan one?
The Maori guide had one, too.
Q: What's the difference between an orange and a…
The filthiness of the joke appalled everyone into silence – until the tour guides realized that no one in the group (save for the American) had understood. The fact that it hadn't been understood was then funny. Then everyone could laugh. But the joke itself, oh brother. It had to do with pedophelia.
It was time to push off, and two large rapids ended the trip. The last we were allowed to kick back into a few times to practice "surfing" the sledges. Everyone was exhausted and happy at that point, and it was time to load up and go home. The exact same driver, in the exact same van, suddenly appeared. As we pulled out of the parking lot, one of the other guides halted his acceleration simply by walking in front of the moving van, not even looking. He smiled, tapped the hood, gave a little wave, and walked off. In another area of the parking lot a river-guide was assisting a senior citizen to his vehicle. Our driver rolled the van to a stop and lowered his window. "Woo hoo hooo! Look who's got a DATE!" Another guide jumped in shotgun. "I'm an Amerrrrrrican," he shouted, imitating the accent. "I'm a bloody Amerrrrrrican!" At that point the German girl who'd made the snail joke announced that we had to drive back to the site where we were first dropped off because she'd forgotten her sunscreen there. It was very important to her, the sunscreen. So we did that. Zipping by all the while were beautiful rolling hills with grazing sheep. "Ze Germans like ze sheep, ja?" our driver asked the German guys. "Ze Germans loooooove ze sheep!" Next came the pea-gravel, and this time he slalomed it at high speed until the back end slipped into a tiny fish-tail. That checked him, everyone had felt it, and the guide with the missing teeth laughed and opened up his window and shouted, "Wassup gangsta!" A young Maori boy with curly hair and an oversized red t-shirt looked back at him, confused. The guide nodded at him, turned back to the group, sang a few beats of a rap song, and then prepared everyone for clean-up.
"You'll only take your suits off halfway, because otherwise you'll end up stepping all over them, getting 'em all dirty. We'll help you with the pants, we're good at that, it's not easy, but we'll get 'em off you, won't we boys. Hell, we even like it, we don't even have to buy you a drink." He smiled and looked around. Not one of the sledgers had understood, and the other guides were tired now. "No, no, I'm just kidding, we're not like that, are we boys. What are we, Aussies?"
Back at the site, when everyone had de-geared, things devolved into a lot of standing around. Reggae music was still blasting, and rumor had it that they were going to show some action shots for sale before driving everyone home. A Slovakian girl walked up to the desk, and, in very labored, painful English, said, "Um, I am wondering… about… when we go…." The man who looked to be in charge leaned forward on his elbows, drew her in, and very seriously told her, "Tomorrow." That joke didn't really work either, and when he'd finally given her a real answer, I stepped up and bought a Coke. A few beats later I had one that said, "Not for individual sale."
So the kids have taken over the camp here in Rotorua – or at least at this rafting/sledging outfit.
But it worked out this time, at least for us, and hopefully it keeps working out for them, too.