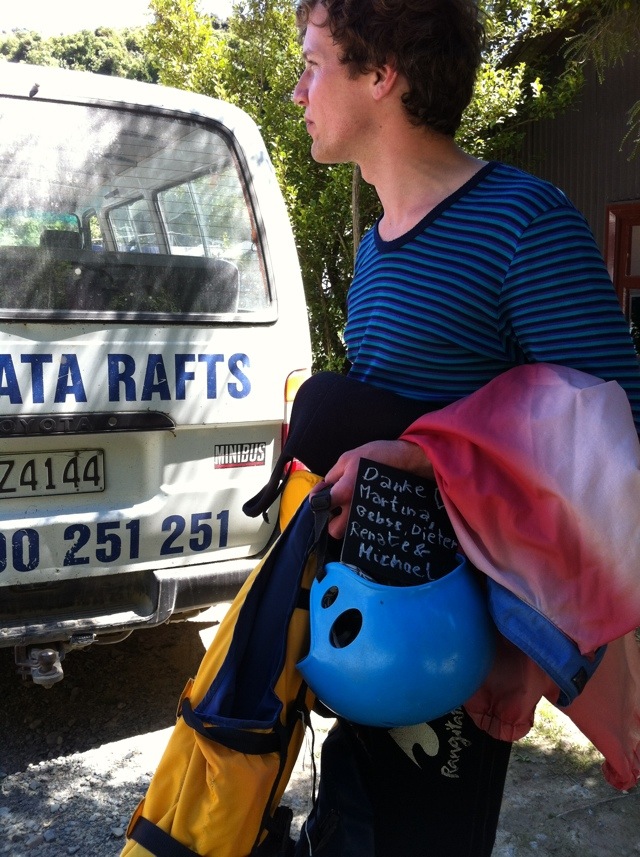 At 8AM sharp, with neither food nor coffee in our bellies, Billy the northern Irishman pulled up in his bus-van. Billy was a mechanic most his life, but after visiting his sister in New Zealand, Billy packed his bags. "This is a dream job, really," he said. "Every day feels like I'm on holiday." Halfway through he pointed out a telephone pole. "See that? Now, you don't have to, but what most locals do, what most Kiwis do is they hold there breath from that pole there, which is the start of the bridge, all the way to the other side. It's the longest bridge in New Zealand." All three of us made it. A short while later another bridge came along. "So here's the Rangitata River you'll be rafting on today," he said. The river contained nothing but rocks and dry sand. We looked up at Billy, confused. He was smiling.
We arrived early, and after a few cups of tea and instant coffee, it was time for an early lunch and a prep talk. The head guide, Steve, introduced "one of New Zealand's top female rafters," a muscular Fijian woman, and another guide, who Steve said, "isn't much good. Bad luck if you're on his boat." The guide in question looked up from the floor, squinted at Steve, and walked out of the room. As for the third guide (not present), his name was Chunk. "Anyone seen Goonies? The movie, Goonies?" Antje and I raised our hands. "OK cool, so when you see Chunk, you'll know why we call him that." Chunk walked in a minute later, true to form, with dreadlocks to boot. When it came time for gear-fitting Steve asked, "Are there any Aussies in here?" A couple raised their hands. "Good, good, because we're kind of short on life jackets today. Aussies can swim, right?"
As Billy drove the group to the drop-in, Chunk asked where I was from. I said Seattle, and he said, "That's close to Oregon, isn't it." He'd taken a west coast road trip from San Diego to Alaska, and had spent some time in Oregon. "They filmed Goonies there," he said.
On our raft were Jerry, Diane, and their two daughters, Dakota (Cody) and Willow. Billy took a picture of us, but had a tough time with Antje's iPhone. "Not much good with technology," he admitted. "In Ireland we still have gas TVs." Originally from outside Toronto, Diane (and family) had just finished a yearlong teaching exchange in Brisbane.
The Rangitata River is Grade 5, the highest allowable. 80 tons of water pass through per second. The chances of flipping are high, and in the first flat stretch Steve instructed us on minimizing that risk, including diving as a group to one side. We also practiced overboard procedures. The rapids progressed in perfect order, from 1-to-5. Surprisingly, it was the second rapid, a class 2, that slammed us the hardest, and that might have been my fault.
Steve had been adamant about continuing to paddle NO MATTER WHAT appeared to be coming, to paddle especially hard through rapids, even as they washed over us, that it'd help to get us through. Never were we to just FREEZE and do nothing. Okey dokey. The rapids were pretty idle at first, but as our raft began a nose-first plunge into a giant wave I scooted forward to dig the paddle in before it hit the raft. Steve later informed me that my forward slide had made the nose heavier, so that rather than bouncing over it we'd punched right through. The head-high wave blasted us off our seats. No one fell out, though.
When we'd finished the Class 5s we hopped out of the rafts and floated a long, easy section of the water. The sun was hot, the water cold and blue, and it wound through rounded grey boulders and green hills. Afterwards we jumped 5m (15-foot) and 9m (27-foot) cliffs, after being repeatedly admonished not to show off and try backflips or gainers. Steve pointed to a tree on the opposite hill. "We keep a backboard under there. We don't like to use it." I could have stayed there all day.
At the next rapid Steve aimed us back at a small waterfall and intentionally got the raft stuck in it, spinning us around and around as it filled it to the top with water. This went on for at least two minutes before Steve finally got what he'd wanted. Antje flipped backwards out of the raft and into the river, holding on to the side with one hand. With a yank of her lifejacket I got her back inside. "Thanks Steve," she said.
When we'd rafted a rapid called "Last Rapid", we loaded up the raft and Billy drove us back for the evening barbecue. Next he drove us to Geraldine, our personal chauffeur, and at the hostel wished us well a half-dozen times, and waved goodbye.