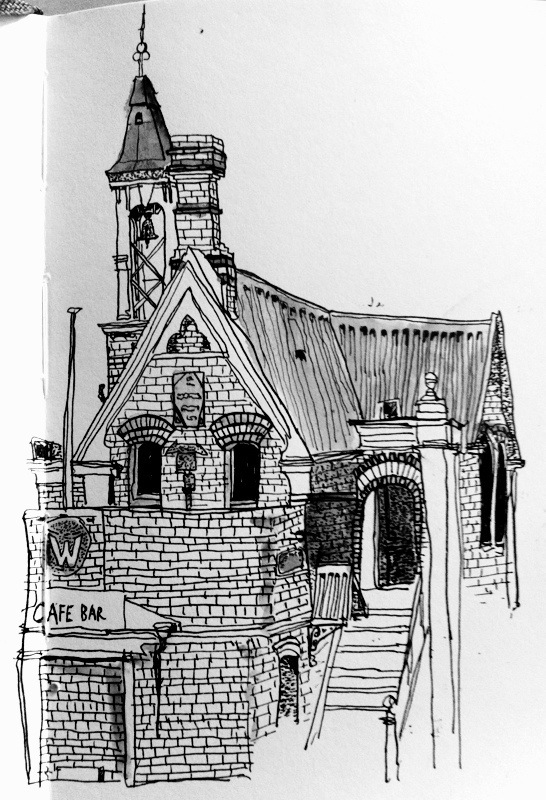 It was time to check out of hell.
None of the other campers were headed back to Warkworth, so I asked the female owner once again about the taxi. It came to 40 euros, she guessed. She still recommended hitching.
There was now a tremendous hill involved this situation, one we hadn't had to deal with on the way in. We'd have to get over it before even raising a thumb.
As I walked back to Antje, I thought, "If she agrees to hitch-hike, then she can use the saved taxi-money on clothes."
Before I could suggest that, though, Antje agreed to hitch-hike, with one contingency. "Only if I can spend the money on clothes."
That was a win-win.
What was a lose-lose was huffing up a very big hill with all our stuff, walking alongside to a road for another mile (1.6k), and getting sunburned – with nothing to cool us down but whooshing cars. It was our last full day in New Zealand.
Leigh came into view, and we agreed to call a taxi there. It was the worst of all possible outcomes. Just before Leigh, though, a Toyota 4Runner pulled over. A woman swung the door open, smiled, and said, "Sorry if I don't talk much. I'm hungover."
It turned out she'd been one of the revelers at our campground's campfire the night before. She felt like crap, but she had to get out early, since she and her (French) husband had to cater a friend's wedding that evening.
About halfway through we went around a roundabout that, one day a week, serves as the focal point for a farmer's market. The entire roundabout was swarming with bees, so thick they darkened the air. Parents were shielding their children, and all in all, it looked like a scary movie. Distracted by the bees, Marie almost hit someone.
She'd done her share of hitch-hiking, Marie, and was happy to see us doing it. "It's too bad, it was kind of a tradition, you know? Kiwis like it when they see tourists getting in on it."
Still, we were happy for our bus seats on a scheduled bus. As we headed into Auckland, I checked the map. More bad news. Our hostel was a mile away from the bus stop, and that was no longer tenable.
We buckled (in) and took a cab.
The hostel, called "Verandahs," was the most beautiful we stayed in. Continually running through my mind was a variation on, "We don't deserve this for this price." It was white and victorian, with all sorts of carved wood furnishings and trims, new carpet, fresh paint, stained glass windows, everything perfect. Behind it was a park and the cityscape, and, looking out on it all, a large verandah.
Dinner was at "The Brewery", where we ate on our first, horribly jetlagged night in New Zealand. The funny thing was, they were now brewing their own beer (they'd been too new when we first visited) and the beer wasn't as good. Or maybe we'd changed: "You cannot drink the same beer twice." Either way, oh well.
The next morning we ate breakfast at a hundred-year-old brick fire department converted to a café. The food was delicious, the servers young and caffeinated, the owner Vietnamese and very friendly, and we enjoyed, for now, the last of our beloved Flat Whites.
The bus picked us up near the top of a hill, drove thirty more feet (10m), and stopped at a light on the corner.
Walking toward the bus, or rather strutting, was… I don't know. He/she was Maori, possibly drunk, and was either a transvestite or transgender or a very masculine women in a pink top. As he/she got closer to the bus, the strut became a full-blown comic exaggeration of a runway walk; showgirl knew how to work a crowd.
The entire left side of the bus was now watching, partly out of boredom, and as the bus rolled back and went into gear, showgirl stopped, yanked out a breast, aimed it at the bus, and started shaking it like a squirt gun, grinning at our faces with both sets of teeth.
And you know what? That's the kind of farewell I've always wanted.
So goodbye, New Zealand! We'll miss you. You were just voted "Friendliest Country on Earth", and we agree.