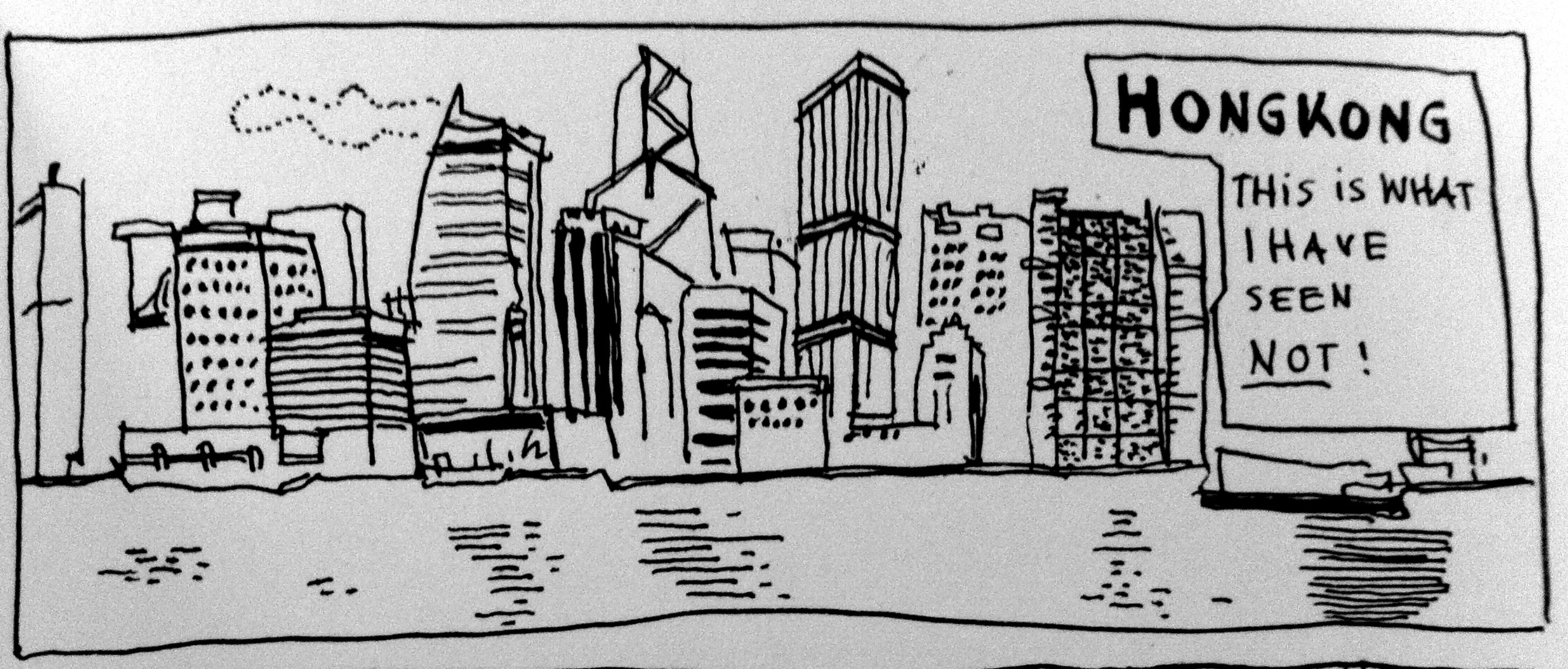 Antje tried an ATM – and was rejected. She tried a second ATM – and was rejected. She tried a third, and fourth, etcetera, ad nauseum, and at that point we had a very big "uh oh" moment.
Our entire travel budget was in her account. Everything we had for our trip was on that card. What idiots! I had an idea. "Just transfer it to my account and we'll take it out with my card." We needed a unique PIN number for that, though… and yet amazingly, her bank managed to text message it to her in Hong Kong. Go Sparkasse! We then logged into my account to make sure the transfer had worked. Hm. My account was blocked from online viewing until I also received a text-message PIN, a ridiculous (new) security feature. Goddamn you Sparkasse! In the end we exchanged euros. 1 euro = $10 in this country, which makes you feel like a playa! $25 for a coffee? Boom-shacka-lacka!
As for Big Buddha, he's exactly what you'd imagine! To get to him you take a taxi, a gondola, and walk through a gauntlet of consumerism that only Disneyland can match. Lots of schoolchildren were visiting, and in Hong Kong the official school uniform is a tracksuit in light-blue, gray, and white. They look like sports clubs. Or maybe they were sports clubs? But children are children are children, and from atop the Big Buddha platform a group of girls made retching noises at the heads below them, causing a few to dance away from the expected spray. There were also two western guys in hooded sweatshirts who sat meditating in the sunlight before Big Buddha and chanted continuously. No one else was doing that.
Now, as we prepare to board our next 10-hour flight to Auckland, there's something that needs to said about China. But first, a little-known fact about Turkey.
In Turkey it's considered socially unacceptable – revolting, really – to blow your nose in public. Strange, huh? No one does it. How they avoid this issue is a great unknown, but they do, and they're the better for it.
So to them, we're a little bit disgusting. We're cultured and all, and we're pretty well educated, but then we calmly pull out a tissue and just gross them out. We even look at it sometimes afterwards.
Clearly this has nothing to do with race. It's culture, full-stop.
So China, it goes like this:
"Dear China,
Congratulations on entering the world stage! You're almost there! Keep going!
That said, stop spitting. Stop hawkin loogies all over the place. Stop hawkin loogies and then not even spitting them. That's nasty.
Also, stop burping. That's nasty too. And stop slurping so many foods. That's dangerous.
And last, stop bumping. Humans are not moveable objects. Life isn't just one big astro-crag. Walk around.
Sincerely,
Tourist"