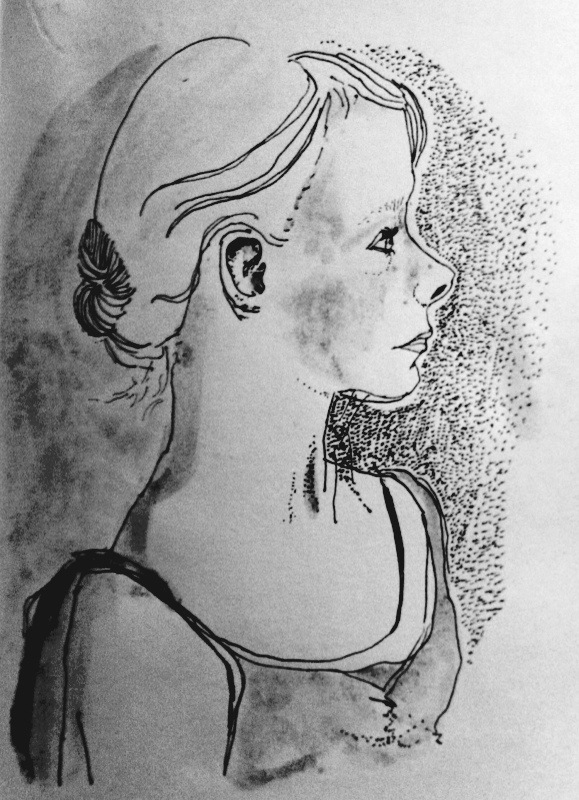 After a gross, lame breakfast, it was time for our first massage. With our backs cracked and legs walked upon, Antje then went to the airport to pick up our friend, Inga. Peter met me at Khaosan road.
I met Peter at UW, and more recently he visited Antje I in Cologne. It was a blast and we had great weather, and we'd been looking forward to seeing him in Bangkok.
We walked to the river, took a boat downstream, relaxed at a cafe, and made our way to Chinatown. Amongst the spices and the strange fruits and the starchy bulbous bell-shaped things came an entire section of flowers. When it came time to buy exactly two of them, one for Antje, one for Inga, they turned out to be bundle-only affairs of 100+ flowers. Peter explained the predicament in Thai, and after a few clarifications, the woman nodded, extracted two white orchids, and, after handing them to me, refused any payment.
From there we picked up Inga and Antje at the hostel, and, as we made to leave, a shock of stress ripped through me. I couldn't find the small backpack I'd been carrying around all day with Peter. My iPad was in there, and half our Thai budget. We'd just had a beer at a sort of nearby bar, and, completely panicked, I ran back to it. The Thai waiter said he hadn't seen one, but I wasn't sure if I believed him. The people who'd been sitting right next to us also hadn't seen a red backpack, though. As I jogged back I ran into Peter, Inga, and Antje. Peter went to the same Thai bar, and made the waiter promise "on his soul" that he hadn't seen one, a very meaningful thing in Thailand. The waiter hadn't. Meanwhile I'd run back to the hostel and torn it apart. Still nothing. Then I noticed the pile of clean laundry Antje had dumped on the bed ten minutes earlier. A backpack strap was poking out.
Man-oh-man-oh-man-oh-man.
From there we motorcycle-taxied our way to a canal, during which Antje's hat flew off, and was scooped off the road by a dexterous Peter. Next we took a noisy, splashy boat through a filthy waters, and hopped on more motorcycles.
Antje and Inga were on one motorcycle, and Peter and I had our own.
Immediately my 20s-something driver guy turned 180 degrees, revved it up, and proceeded backwards into oncoming traffic. Behind me, Peter and the Inga-Antje motorcycle presumably did the same.
Five minutes, and a whole lot of weaving later, my driver said something in Thai.
I shouted, "Only English!"
Smiling, he repeated the words in Thai.
"ONLY ENGLISH."
He said something else, all of it unintelligible, but it seemed like he was confirming, or maybe asking, where to go. I shouted, "I DON'T KNOW," and he grinned like a naughty boy.
He pointed to a building. We weren't going to a building.
"PARK."
He grinned and pointed at the building.
"PARK!"
He said something in Thai and laughed like, "Uhhhh ooooooh! We have a prooooooooblem!"
What? Had he seriously not heard where we were going?
I began making plans. Peter had a smart phone, so I'd email his smart phone and say, "We're lost, where are we meeting?" and at that point Peter would – 
– pull up next to me on his motorcycle Taxi.
Whew!
Antje and Inga came next, and we stopped at the park.
The grass was green and manicured, the lakes clean and filled with fountains. It was in the middle of Bangkok's financial district, and the most beautiful park we'd seen in Southeast Asia. It also had lots of joggers, which is rare, and something that, for a westerner, looks funny. The government sponsors outdoor aerobics sessions, and hundreds jump, kick, and sweat their day to an end outside.
Two westerners pushed past us as they jogged – as in they actually pushed us with hands – and Antje frowned at what she was sure were very rude Germans. They were Americans, though.
Dinner was a communal, plate-sharing affair, with a waiter who watched us eat and refilled our beers whenever they were two gulps lower from the top. Every dish we'd ordered was pretty darn spicy, and yet Inga had also eaten a pepper without a problem. We were confused how she'd done that.
"Wasn't that really spicy?"
Inga shook her head.
"Those are supposed to be really spicy."
Inga shook her head.
So I ate one, and Inga ate another one, and it was one of the hotter things I've eaten in my life. It also got her that round, and we spent the next ten minutes being spicy.
The bill came a few minutes later, and our shared, four-person meal, with four big beers between us, came to 15 euros. Ah Thailand. I'd hoped this was still possible.
From there we taxied to Cheap Charlie's, an outdoor bar, and I should mention here that there's a different relationship to beer in Southeast Asia. In colder areas of the world it's certainly refreshing, but here the patrons are like hot, sweaty babies crawling their way towards a teat.
We had a table, and next to the table, at the bar, was a single, 30-ish girl, alone and smoking a cigarette. She watched us talking for a long time – Peter and I, Antje and Inga – and after 15 minutes approached.
"Habt ihr Feuer?" ("Got a light?")
We didn't, but it occurred to me then that she'd been listening to Inga and Antje all the while, certainly lonely at the bar, and maybe also missing Germans on that night.
As the bar was outdoors, we suddenly wondered about the bathroom. When I asked, the owner looked at me seriously.
"Only for pee pee."
I agreed to the terms.
Before Peter left he let us know that the taxi home should cost about $3.00 (100 baht). It was good he said that, because the first five taxis refused to start a meter, and claimed it would cost double.
Finally we found a very nice and honest cab driver, one who blasted the air-conditioning so powerfully that I'm sure it contributed to the problems he had with his nasal passage, namely their drying out entirely.
Our small tip made him very happy (not necessary in Thailand), and we all went back to Donna's Guesthouse for some air-conditioned sleep on perfectly hard mattresses.